Finding your Indoor Plant-based Inspiration
Clever Ideas To Display Plants & Bring The Outdoors Indoors
We all know about the health benefits of having plants in your home — cleaner air, adjusted humidity levels, etc. And many people know that having houseplants in your home can elevate your mood and lift your spirits. But on top of all of those concrete, irrefutable benefits… house plants can also look so damn good! It can be, however, difficult to find the inspiration to make that initial leap into the houseplant-decorating world. Read on for some clever ideas to display plants.
#1 Clever Ideas To Display Plants: Group Like Plants In Macrame Hangers
You will surely receive many compliments from your guest when you group plants in macrame hangars. Grouping "like" plants gives you a cool green look and will help make maintaining them easier since their needs will be similar. If you're feeling extra creative, throw a wine and macrame party and make your plant hangars!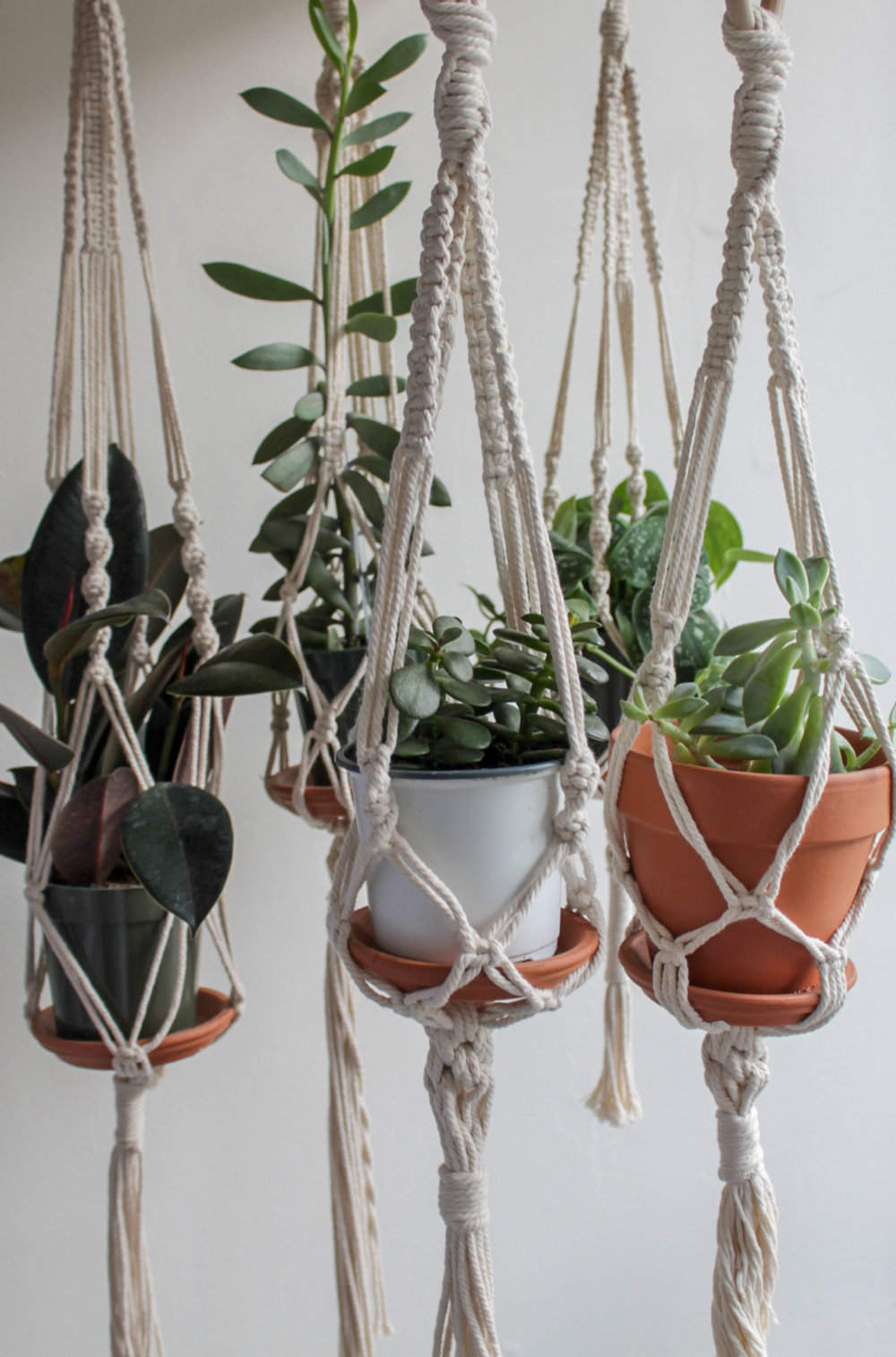 #2 Clever Ideas To Display Plants: Create a Wall Hanging Rope Shelf
While you're DIY-ing your own plant hangers, why not consider making your own hanging shelves too? Wall hanging rope shelves offer a unique and artistic look and are super simple to make. Get creative by using colored macrame cord, or let your plant's shine by using neutral rope colors and get your zen on.
#3 Clever Ideas To Display Plants: Decorate With Fronds & Branches
Place fresh cuts of Fronds & Branches in a tall clear vase to add a touch of exotic elegance to your space. Decorating with larger greenery like Monstera fronds can make a dull void room cozy and come alive. Use your green yard ornamentals to bring more of the outdoors inside. We recommend also using Banana Leaves, they are very on trend and oh so Beverly Hills Hotel.
#4 Clever Plant Hanging Ideas: Use Verdant Vertical Length Greenery
Another great touch is adding vertical length to your interior plant-decorating efforts. A String of Pearls plant hanging from the ceiling adds a softness to most any interior space. While we're talking about vertical length, though, we'd like to stress that it doesn't have to be a hanging plant. A tall floor-bound plant can also add a nice chic touch to your room. Much like a floor lamp bringing light to a room, a tall houseplant or shrub brings life & light to your home.
#5 Clever Ideas To Display Plants: Use Geometric Planters
And last but not least, and you've probably caught on to this yourself, but just to be sure we're gonna say it here — anything geometry
 is so 
in 
 right now 
!  Geometric terrariums are great for displaying your succulents and cacti, we love the way an aloe vera houseplant looks planted within an multi-faceted porcelain planter.
Thanks for joining us, folks! We hope you learned a thing or two and, as always, consider reaching out to us for a quote! 804-201-4010

We Provide The Best Thorough & Reliable Residential Green House Cleaning Services in Richmond VA
Our Clients Love Us!
Read Our Reviews
[testimonial_rotator shuffle="1"]
World Class Cleaning Packages
Deluxe Home Cleaning
In addition to the Standard Package, this package emphasizes detailed hand cleaning and focuses special attention to heavy dust build up, heavy kitchen buildup and heavy bathroom build up. Click for details
Standard House Cleaning
This package is a follow up to the Deluxe cleaning. It is also for the home that has had someone keeping up with the cleaning chores and just in need of a spruce up. Click for Details
Additional Cleaning Services
World Class Cleaning Services is happy to build a cleaning services package specific to your needs—and to your space. Click for Details