Finding your Indoor Plant-based Inspiration
We all know about the health benefits of having plants in your home — cleaner air, adjusted humidity levels, etc. And many people know that having plants in your home can elevate your mood and lift your spirits. But on top of all of those concrete, irrefutable benefits… house plants can also look so damn good! It can be, however, difficult to find the inspiration to make that initial leap into the houseplant-decorating world. So we've got a few hints and tips for you with regards to decorating with indoor houseplants, and we'd like to kick off this article with a local, DIY suggestion. 

Macrame Plant Hanger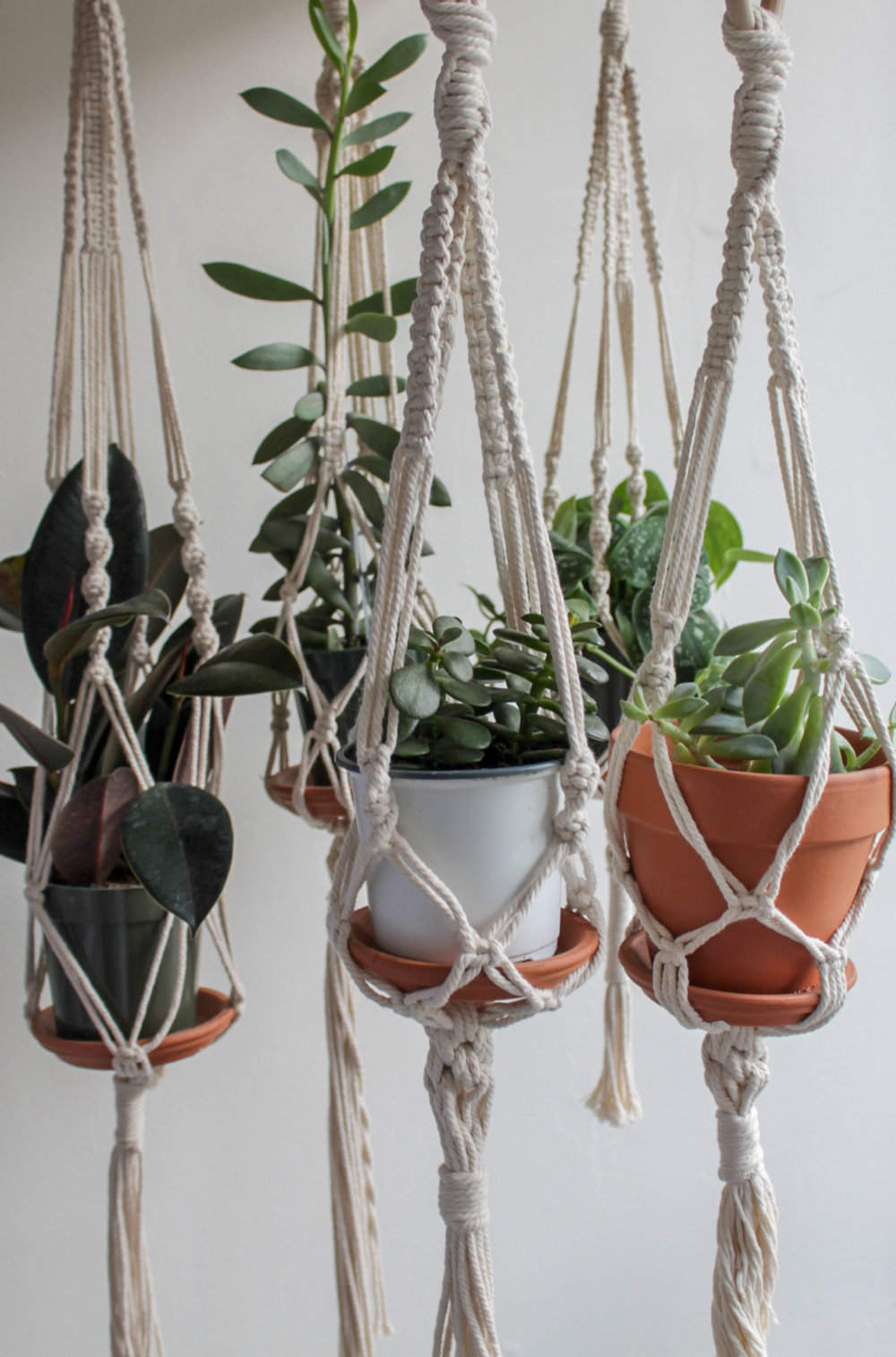 Not only will you get compliments on your plants in macrame hanging plant holders, but when you can tell your friends you made the plant hanger yourself at a local coworking art studio, well… They'll be thrilled! Check out this link here for all the deets on this $45, BYOP (Bring Your Own Pot) class.  Onto the next suggestion…
---
DIY Hanging Rope Shelves
While you're DIY-ing your own plant hangers, why not consider making your own hanging shelves? They look great and quite frankly, this instructional video posted above from Homedit's Youtube Channel makes the whole process look fiendishly simple. We use the word "fiendish" because whenever something looks this good (see below) for such little effort, while, there must be some sort of dark magic involved. 
---
Simple but Sweet — Decorate with Fronds or Branches
Next up we have another very simple solution which adds such a touch of exotic elegance. We're not sure why, but decorating with large fronds or branches adds to your home such a mystical touch of the great outdoors. See below for an excellent example of monstera fronds on the living room coffee table.

---
Verdant Vertical Length
Another great touch is adding vertical length to your interior plant-decorating efforts. See below this String of Pearls plant hanging from the ceiling. It adds such a softness to the interior! While we're talking about vertical length, though, we'd like to stress that it doesn't have to be a hanging plant. A tall floor-bound plant can add such a nice touch to a room as well. Think of the beauty and function of a nice floor lamp, except instead of bring light to the room, your tall plant or shrub brings life to the room. 

---
Get Geometric!
And last but not least, and you've probably caught on to this yourself, but just to be sure we're gonna say it here — geometry 
 is so 
in 
 right now 
!
---
Well that wraps it up, folks! Good luck with your indoor decorating efforts and reach out at any time if you need your home cleaned with environmentally, green-friendly cleaners. (804) 201-4010